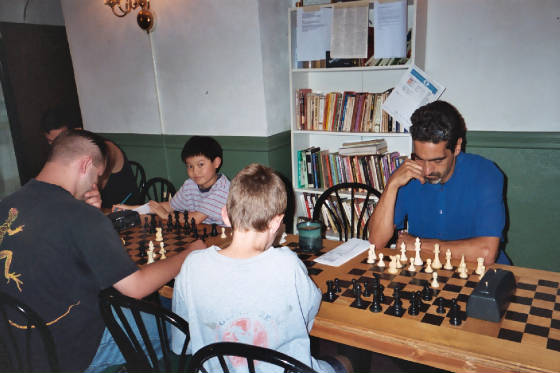 STATE CHAMPS! 2008.

Please join me in congradulating

the Newport chess kids,

Whom i direct on

Mondays and Wednesdays;

For winning

The NEW JERSEY STATE CHAMPIONSHIP.

1st place, second grade.

Sunday November 23rd, 2008.
February 24th
2008
Hoboken Kids
Are
2008
New Jersey
State Chess Champions;
With over 300 participants, directed by the New Jersey State Chess Federation, and sanctioned by the United States Chess Federation, the Hoboken Chess kids went to the New Jersey 2008 state chess championship, and again were successful.
Anangh Kulkarni won a first grade 3rd place championship trophy.
Max Tamarkin won the 6th grade 1st place Championship trophy.
However the star of the day was Garrett Chu.
Garrett went an unprecedented 5-0 to win the overall tournament. Garrett was awarded title of
New Jersey 2008 State Chess champion,
Elementary division.
Vrutik Thakkar finished with a respectful 2 wins and a draw for 2.5 points.
The Hoboken Chess kids have won at this event for the past eight years.
Please join me in congratulating these children on this great accomplishment.
---
November 18th,

2007

State Champs.

With over 300 children from around the state of New Jersey, the Hoboken Chess kids won TWO State championships and finished fourth in another one!

Hoboken Now has the title's of;

NJSCF State Champions

First grade First Place.
AND
NJSCF State Champions
Sixth grade First Place.
State Champs 2006 4th Place
5th grade,

4th place

State Champs

The Team (pictured above) of Max Tamarkin (left), Sean Evers (center) and Ethan Gilbert (right) Claimed a trophy at the 2006 New Jersey State Chess championships.

The three players were in a fifth place tie with a number of teams going into the last (5th) and final round. (top five schools win team trophies)

They All came out victorious, winning there games to

actually move ahead of the fourth place team in the process.

Congradulations!
2005
After winning at the Bergen County Championships
.
Below 3rd Place State champion Max Tamarkin
Max with his Class And teamate Sean Evers
November 2004
The Hoboken Chess Kids
Won the
New Jersey State
Chess tournament!
November 2004
AGAIN, AND AGAIN AND AGAIN AND AGAIN AND
AGAIN!!!
for a unbelievable
5th CONSECUTIVEstate Tournament!
over the last 4 year's in a row!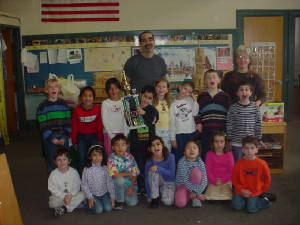 March 2004
Enter subhead content here